Skip to Content
Let Sculpt My Bod Refine Your Body
Fitness enthusiasts will tell you some muscle groups and fatty areas are very difficult to target through traditional workouts and dieting, regardless of how rigorous your fitness regime is. Sculpt My Bod understands the predicament healthy adults face and is proud to offer Emsculpt for Long Island patients. We have over 25 years of body contouring and sculpting experience, so you know we have the expertise you need to be your best self.
If you're a healthy male or female who is having trouble building a six-pack of abs or burning off the baby weight, Emsculpt may be right for you. The treatments help to speed up the process of toning your body.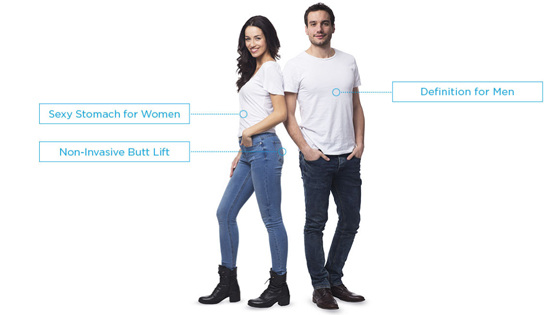 How Emsculpt Works
What is Emsculpt?
Emsculpt is a non-invasive alternative for men and women interested in burning fat and building muscle. The process results in a more toned physique. It is also a highly-effective butt lift technique.
---
How does it work?
Emsculpt stimulates hyper-active muscle contractions that aren't possible through exercises like weight-lifting, running, biking, or rock climbing. Instead, it uses high-intensity electromagnetic waves to aggressively target muscle and fat, causing a large number of muscle contractions in a short period. Emsculpt can get rid of those love handles with precision.
---
How many sessions does it take?
We recommend four sessions. Each will take roughly 45 minutes. We don't recommend undergoing Emsculpt treatments less than two or three days apart.
---
Can I expect recovery time after Emsculpt treatment?
No. Patients experience no interruption after treatments because Emsculpt is non-invasive.
---
How soon will I notice a difference?
It depends. Most patients start to see differences after the first session, but those changes may be marginal. However, many of our patients report more dramatic changes two to four weeks after the last session with changes continuing to occur over time.
Meet Dr. Gallagher
Board-certified to perform cosmetic and reconstructive surgery, Dr. Pamela Gallagher brings more than 25 years of experience and proven knowledge to the table. She graduated AOA from the University of Chicago Pritzker School of Medicine, completing her residency training at Cornell University Medical Center at New York Hospital. She has a passion for helping patients shape and contour their bodies.
Contact Us for a
Free Consultation