Skip to Content
Emsculpt Treatment Area: Abdomen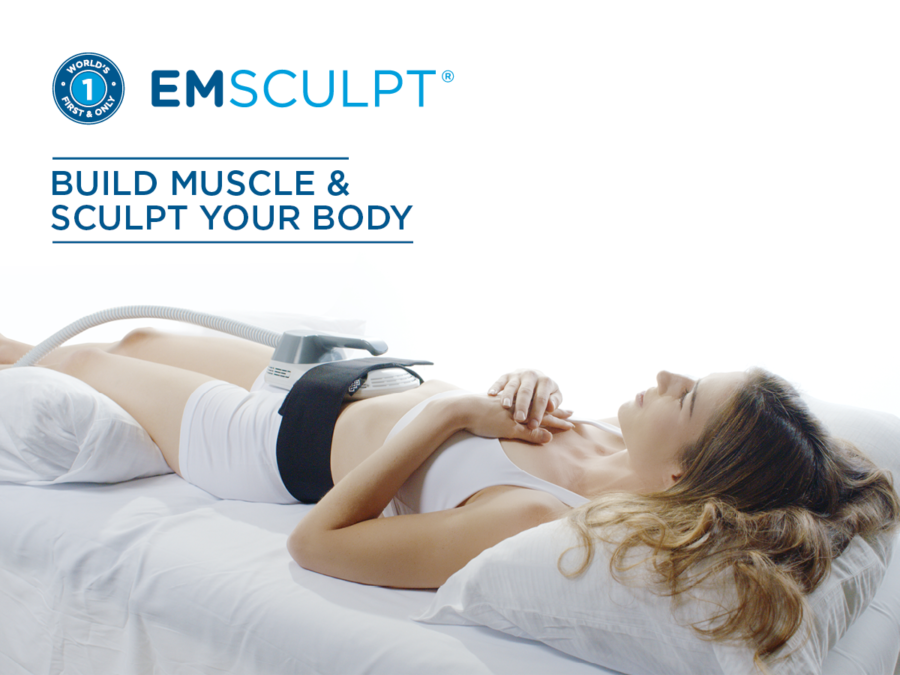 You've put in the work, right? Intense lifting, steady diet, and plenty of sleep. If you have worked and worked and still have trouble areas around your stomach, give the professionals at Sculpt My Bod in Nassau County a call to schedule a consultation. Dr. Gallagher, her team of medical professionals, and talented staff are here to discuss your body goals. We offer many different weight loss procedures, but one of our most effective methods is the Emsculpt stomach treatments. This machine is geared to help you get rid of fat in the difficult places while building muscles you can't reach with general exercises.
For over two decades, Sculpt My Bod has helped those in the Nassau County area finally get the results they have been striving to achieve. Many patients have come back to let us know about how amazing it is to see definition in their stomachs after dieting and working hard in the gym. Contact us today or visit our office to get your consultation scheduled and have a conversation with us about your achievements so far as well as your remaining goals for how you want your body to look.
Are You a Good Candidate for Emsculpt Abdomen Treatments?
With 25 years of experience in the industry, we understand there is not a one-treatment-fits-all procedure to help those in Nassau County reach the goals set for their bodies. Each person walks a different path. We help you decide which solution we offer is the best and work with you to help you attain your desired body. The Emsculpt stomach treatments are very effective for those who qualify. Sculpt My Bod is looking for candidates who are already in shape but need some help around the love handles, abs, and other hard to work areas of the abdominal region. This procedure is great for men or women. And because it is a non-invasive treatment to get rid of fat, you are able to go about your day after you are finished at Sculpt My Bod.
The Emsculpt Process
After you speak with the staff at Sculpt My Bod, we will help you develop a personalized care plan and figure out how many sessions of Emsculpt stomach treatments you will need to see the desired definition. Although you start to feel differently and notice changes after your first 30-minute session, we will recommend four sessions. Your initial treatment schedule should be about a month, with no less than two or three days in between each session. While the actual Emsculpt stomach treatment itself lasts a half-hour, we tell our patients to carve out about 45 minutes from walking in the door until you get to head home. Our professional staff takes care of you the entire time and are with you in the office if you have questions. You will also get the benefit of little to no recovery process. Patients have experienced little to no soreness after treatments, but nothing of significant discomfort. We can even get you back to work directly after your Emsculpt stomach treatment.
How Long Will My Emsculpt Abdomen Results Last?
As with any weight loss supplement and treatment, the results from Emsculpt don't last forever on their own. You will still need to keep up with a healthy diet and intermittent workouts to maintain your Emsculpt stomach treatment. We can also help you by offering return sessions to our facility to help keep your definition and tone on your stomach. We can also help with other areas in need of body contouring and shaping. Our professional team can also give you tips and tricks to help maintain your desired results at home. Sculpt My Bod has the expertise and experience to make sure you get your best body possible.
Complementary Consultation for Emsculpt Abdomen Treatment
When you are ready to get the help you need to burn off remaining fat in your abdominal area, give Sculpt My Bod a call. We help target muscles in this region most people are unable to access in their workouts. We have been in the industry for 25 years, and Dr. Gallagher and her team of experts can help you get the results you have been working towards in as little as a month. Reach out or visit our office personally to set up your initial consultation and allow us to build you a personalized care plan with this non-invasive weight loss and muscle building technology today.