Skip to Content
Emsculpt Treatment Area: Buttocks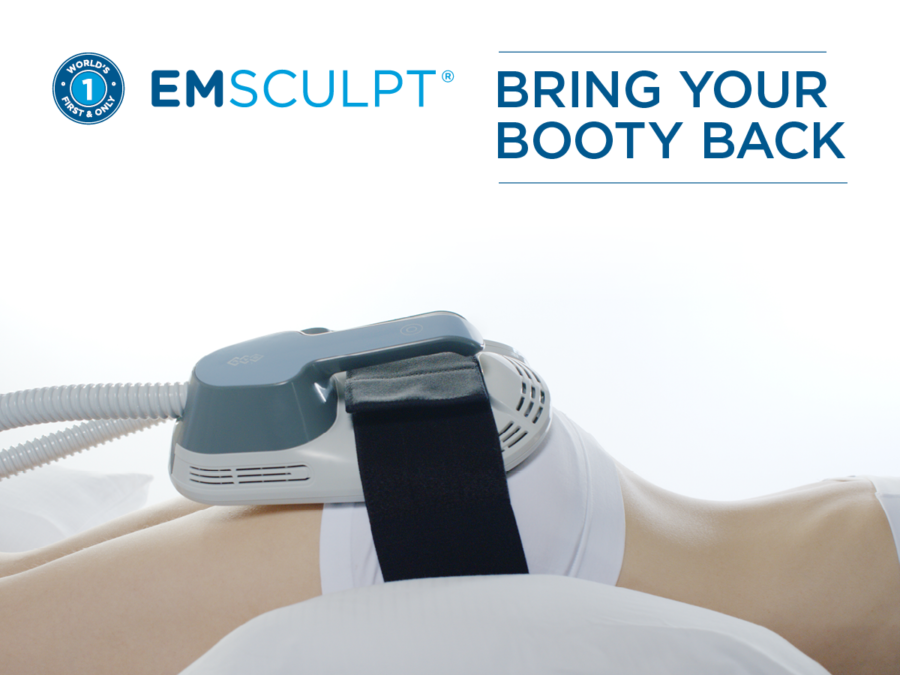 Have you been doing nothing but squats in the gym and still aren't seeing the results you desire? Call Sculpt My Bod in Nassau County today to get some extra help with Emsculpt buttocks treatments. You deserve to have the butt you've been working towards, and it's okay to get some help. There are some muscles in the body you need assistance with because you simply can't work them hard enough on your own. Our non-invasive Emsculpt buttocks treatments can help you get there in as little as four 30-minute sessions.
Dr. Gallagher and her team of professionals continuously study the market to find the best treatments available to help patients. And while there are plenty of ways to get fuller, well-rounded buttocks, she believes Emsculpt buttocks treatments to be one of the best and safe means of achieving your desired backside. Since it is a non-invasive method, you are easily able to continue your day after leaving our facility, and there are no side effects attributed to the procedure. Call us today and set up your initial consultation to get your personalized care plan. We'll help you get the butt you deserve!
Is My Buttocks a Good Candidate for Emsculpt?
Great candidates for the Emsculpt Buttocks treatments are those who have already worked hard to get their desired body and buttocks but need some extra assistance in the final phases of their reshape. The Emsculpt buttocks treatments help you shape your behind in ways most gym fanatics can't target. We help increase the number of muscle fibers and burn the fatty tissue surrounding them with electromagnetic contractions. These work every muscle in your behind and help achieve your dream body quicker than you could do alone in six months. And let's face it, not everyone has the time to spend in the gym focusing on one area of their body while trying to maintain their entire physique. If you don't need help losing fat in your session, Dr. Gallagher or her staff can set the Emsculpt machine to target muscles and not the fat, helping to build the muscles.
What is the Emsculpt Buttocks Treatment Process?
When your weight loss and body contouring journey leads you to need some assistance, call Sculpt My Bod in Nassau County. Just because dieting and exercising haven't worked doesn't mean you need to give up on your bod. We will set up your initial consultation to discuss your habits and your goals. Afterward, our friendly staff works with you to create a personalized care plan and set up a schedule of Emsculpt buttocks treatments to reach your goals. We can help in areas other than your behind as well. We will get you the body you have worked hard to try and obtain. Your initial plan will consist of a month of 30-minute sessions. While you will see a difference after the first session, most patients require our recommended month of sessions. If more sessions are needed to get the best results, we will communicate this need and get you scheduled appropriately. Each session gives you a workout of about 20,000 squats, but there are no side effects, and you can go about your day after finishing. You will feel like you went through a workout, but there is no significant downtime required.
How Long Will My Emsculpt Buttocks Treatments Last?
The Emsculpt buttocks treatments are not a forever solution for sculpting and toning. You will still need to keep up with your workout and dieting to keep the body you have worked hard to obtain. Our professionals will help with tips and tricks to maintain the shape through training in the gym. They offer 25 years of experience and make sure you do the proper exercises to target these muscles better. If you do wish to receive help again from the Emsculpt buttocks treatments, we can assess your body goals and get you scheduled for more sessions to revitalize the area you wish to give attention. We do not suggest using Emsculpt buttocks treatments as your only solution to achieve results, though.
Call Sculpt My Bod Today
When you are looking to have the best behind possible, you no longer have to worry about invasive, painful, and potentially dangerous procedures. You also won't have to spend hours in the gym, and make drastic changes to your diet with little to no results. Get the buttocks you want with the non-invasive, no-sweat Emsculpt buttocks treatments. For over two decades, Dr. Gallagher and her staff have been helping those on the hunt for the perfect behind get the help they need when they can't spend hours in the gym. Reach out to our friendly office staff today to get your initial consultation set up. We work with you to create a personalized Emsculpt treatment plan to get the body you want and deserve. These treatments can now help target other places than your abdominal and buttocks muscles and fat. You can sign up for assistance with abdomen, arms, thighs, buttocks, and calves!